Museum of Brisbane explores contemporary and historic Brisbane, Australia, and its people through a program of art and social history exhibitions, workshops, talks, tours and children's activities. Located within Brisbane City Hall in the city's CBD, the Museum and its staff are highly regarded for their innovation and contemporary international practice across the museum and gallery sector.
Museum of Brisbane's High Rotation exhibition takes centre stage from 30 August 2019 – 19 April 2020. Get a backstage pass to three epic decades of Brisbane's incredible music scene from 1989 – 2019.
Showcasing some of Brisbane's most memorable musicians, High Rotation is set to take music lovers down memory lane, while introducing a new generation to this iconic musical era through film clips, photographs, instruments, souvenirs, and ephemera, as well as an immersive digital component to elevate audience experience.
With music we really tried to capture the emotion and feelings you experience when you're listening to music, and we thought the perfect way to do that would be to include music video, we couldn't do that without the support and the innovation of Maxell.
Renai Grace, Museum Director, Museum of Brisbane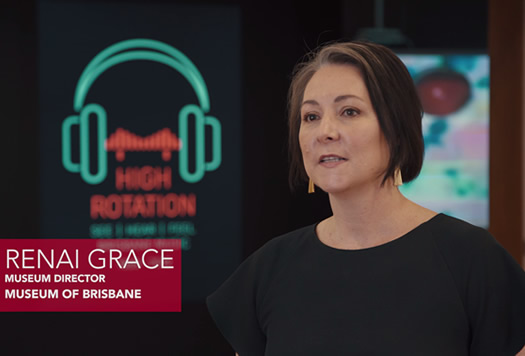 Museum of Brisbane collaborated with Nightlife Music and Maxell to create High Rotation, an unforgettable immersive experience that reveals a snapshot of how popular music in Brisbane exploded from the local scene onto national and international stages.
View video on this case study about Museum of Brisbane and their partnership with Hitachi Australia's Digital Presentation Solutions (3min, 19s).